Eric Olsen is a young working adult, who aspires to coach in functional movement. Through parkour, he overcame anxiety disorder and boosted his self-esteem. Having spoken to him occasionally over the years, he is among the most dedicated movement practitioner who has made the training lifestyle work.
Make sure you read his advice at the end about starting out in parkour and functional movement activities.
Here's his interview.
Eric Olsen's Case Study Interview – Parkour
What do cross-train in and how long have you been training? What are you aiming for at the end?
My name is Eric Olsen and I have been training in Parkour and freerunning for about 4 years. At first my motives were simple, I wanted to feel a thrill and do something that went beyond the scope of what I thought I was capable of, but now the purpose has grown into something more.
I began to suffer from generalized anxiety disorder causing me great hardship. I started to feel trapped in my own skin, sometimes even afraid to leave my own house.
Parkour has helped me feel free again, not bound by my physical limitations and a sense of belonging within the community. As for the end result, I wish to inspire physical freedom to anyone who will listen, but more importantly (and probably more childish) I want to become a hero, whatever that may mean.
What happens during an average training session?
During the average session the main goal is usually to push for something we couldn't normally do. We create ourselves a set of goals we hope to accomplish by days end.
These goals can be simple tasks such as climbing a specific tree, climbing a certain wall, or learning a simple roll. Other goals can be more advanced such as jumping a large gap, or performing advanced tricks and movements in various places.
Often times we plan strict training routines only to break them later because we're too distracted by having fun, and usually accompanied by groups of small children who come to enjoy the show. Life is usually best lived unplanned anyways.
3. What stage in your life are you at and what are your priorities?
At this moment, I am 21 years old, working for a promotional products company, who aspires to coach in the physical arts. My ultimate goal is to work in an environment that utilize my skills and passion to share it with others. In my eyes training in the arts of parkour should take top priority as it is a major life skill, however I must put work first in order to maintain financial stability.
4. Why did you begin training? What's the story?
I began training in March of 2011. Bored at a sleep over at a friends house we went to the park to pass the time. Our friend Justin Gibson demonstrated a few moves he has been working on and told us about Parkour. Interested we all began trying, soon enough it became the main activities among us. That was over 4 years ago and today i'm training harder then ever, I'm very grateful for his knowledge.
5. What were some challenges and obstacles you faced?
With little support from my family, no means of transportation, limited money, and in the process of finishing high school, training itself was always a challenge. Working with what I had. Be it local parks or my own back yard, I was able to make great use of both. Despite this, the biggest challenge was to find others to train with. Being that my friends were very busy, local communities were out of reach, and finding dedicated people is rare, I found myself training alone for the first few years.
6. What happens in a week in your life? How do you make training work?
In the average week of my life is usually a work schedule of 9-5 throughout the week. I try to fit in some time for training basic tricks outside my self, sometimes setting up a mattress for tricks I'm not yet familiar with.
Every Wednesday I attend an open gym at a fitness center called Iron sports in my city where we focus on obstacle course training usually targeted for the American Ninja Warrior show. The owner Sam Sann as well as others who work/attend are contestants on the show whom we learn a lot from.
Saturdays and Sundays I attend parkour meets in downtown areas of my city followed by an open gym session every Sunday at JCC Gymnastics. These downtown areas include large parks, universities, and different urban areas.
7. Do you see yourself still training when you get to the next stage of life, when you have a different set of priorities?
Parkour is a large part of my life and I cannot see anything that would become a bigger aspect of who I am.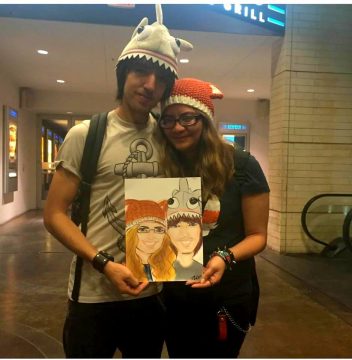 In the future I plan to attend the University of Houston to set my career into place. In spite of all the work and hardship that go into building a career, nothing will halt me in my training.
If one day in the future I would find myself with children to care for, I feel parkour would be a great bonding experience, I would aspire to become their hero.
8. Three things you've gained since you started training?
Parkour has taken me on a journey. I've done things I thought I never would, been places I thought I'd never go, and met people I never knew could exist. The physical challenges I've faced and conquered are unmatched to anything I thought I could be capable of.
It's funny actually, growing up I always shied away from physical challenges due to low self esteem. Mentally I've gain tremendous self confidence and motivation. Parkour is very much mental as much as it is physical. Learning to face fears is one of the hardest things you can put yourself through, even if it isn't hard physically.
Spiritually however I feel was said best by one of my idols Daniel Ilabaca:
"Through parkour, I've found that relationship with God."
9. What advice would you give someone who wishes to begin in parkour?
There are two things I always tell someone wishing to begin in parkour.
Firstly never lose sight.

In the beginning you will hurt yourself, you will feel tired easily, you will hurt for days after training, and you will never master a skill in a day. Surrounding yourself with people who are more advanced than you are can be very discouraging.
How many times have I felt completely inadequate before my peers, feeling like I'll never be as good as they are. This is losing sight of who you are.
Train hard, push your boundaries, leave your comfort zone, try new things, be consistent and motivated in the time you put into it. Not to allow your ego to take control either, this too is losing sight.
The fulfillment is in the journey of growing beyond yourself and in time it'll be you who others will look up to for guidance.
Secondly, always have fun.
Despite the health benefits, discipline, inspiration, and anything else you gained from Parkour the biggest part will always be the times you create and the memories we share. It's the people you meet, the places it'll take you, and the new things you'll experience that make parkour worth while.
Nothing is permanent. Someday as we grow old and parkour will be something that we used to do, but the memories will never fade. We'll look back and remember what it was like to actually feel alive and we will have no regrets.
More By Eric Olsen – Editor's Note
Here is Eric's goal setting from back in 2013 for Day Of Ninja. And here's a list that he contributed to (#27 of 41 Proven Tips To Make Fitness & Martial Arts a Lifestyle)
I would also like to add that Eric has been on Way Of Ninja for a number of years and witnessing his progress is awesome. He has also been very helpful with advice on a persistent shoulder injury that has been affecting me since last year.