How to Overcome 13 Common Obstacles on Race Day? – Obstacle Course Training
You want to join your first obstacle race. But you're afraid. 
Sure, you're fit. But is that really enough to get through all the insane obstacles? How do you even approach obstacle training?
Don't worry.
In this article, you'll find out the 13 typical obstacles found in a race. You'll also learn simple techniques to overcome those obstacles.
I've added my own insights with each obstacle. And provided advice on how you should approach your obstacle course training.
How to train for an obstacle course race?
When you compete in an obstacle race, you get to test your running endurance, functional strength and obstacle course technique. Joining a race will also certainly motivate you to train. If you need more reasons to join a race, here are 11 reasons.
Yet, how should you train for your first obstacle course race?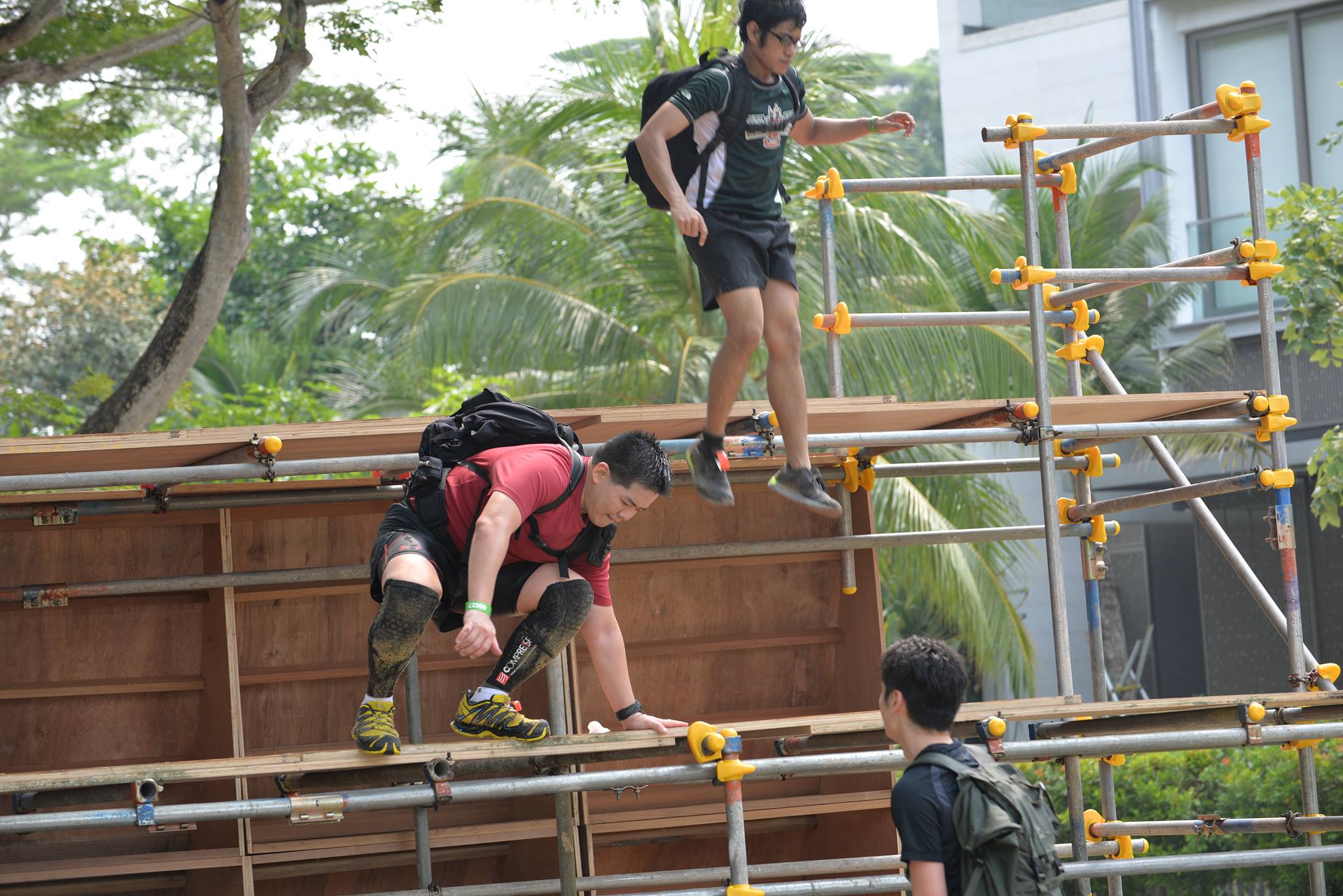 4 elements Beginner Obstacle Racers Should Prepare For
Learning techniques to overcome common obstacles efficiently
Endurance running on uneven trails
Transitioning from running to random stops to get through obstacles
Training your upper body strength, mobility, coordination and grip power
Even if you register for a low-intensity obstacle run, get a bit of experience in the four elements. This helps your body extrapolate what you learn from obstacle course training to your actual race.
High Pressure Training for Your First Race NOT Recommended
However, don't put too much pressure on yourself.  Take your obstacle course training as an initiation ceremony into something bigger. Enjoy the training journey!
If you training out of dread and fear, you've lost the whole point.
Using My Experience to Benefit Your Obstacle Course Training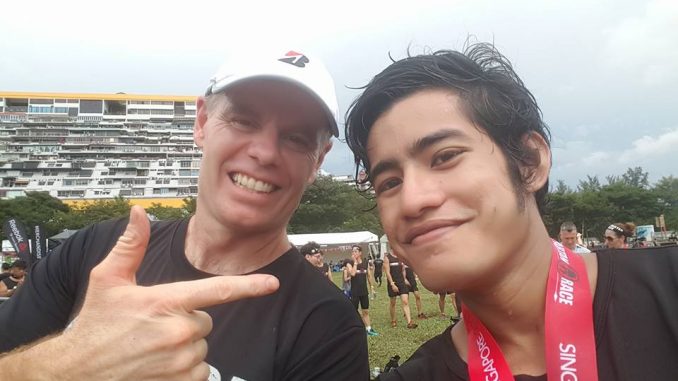 In fact, I didn't train any differently before my first obstacle race in 2014. My fitness standard was high (gold award recipient for my army fitness test) and I was active in movement-based training. Having some basic obstacle skills from the army also played a part to making my first race relatively easy.
That is also why learning obstacle course techniques will greatly benefit you on race day. After all, obstacles are what many beginners lack confidence in.
So, check out the 13 common obstacles and familiarize yourself with the techniques. I'll not talk about the other obstacles because they are easier to prepare for.
13 Common Obstacles at a Typical Obstacle Race
These are 13 obstacles that are most common throughout all races. Include them in your obstacle course training and practice the techniques at your local obstacle course training gym, or outdoor fitness facility.
Setting the technique into muscle memory will benefit you on race day.
Nonetheless, even if you have little opportunity to practice, you will be surprised at how theoretical knowledge comes to life when you are under pressure to excel on race day.
The best way to go through the barb wire obstacle, is to crawl fast.
The Barbed Wire Crawl is a staple in almost all obstacle course races. Even though you are allowed to roll, I find that it disorientates me with dizziness.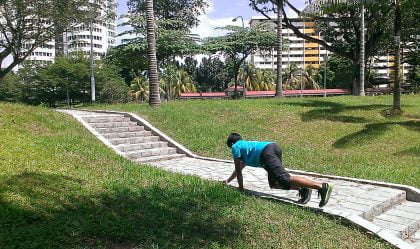 I prefer doing bear crawls (aka foot-hand crawl in MovNat) quickly from one end to the other. The momentum will make it less tiring to move forward (and your knees are less likely to hit the floor from fatigue).
Obstacle course training advice – Train in Bear Crawls
Practice the hand-foot crawl (aka bear crawl or quadrupedal movement). It strengthens your core and gives you the speed needed to complete the Barbed Wire Crawl obstacle.
Your knees should not touch the ground
Your back needs to be straight and aligned, arching it up will get you cut on the barb wire
If the wire is too low, do the army leopard crawl instead.
Blockages from obstacle lane-hoggers may slow you down
The problem, however, is the many obstacle lane-hoggers in front of you, who prevent you from crawling fast. My advice is, get the competitive tickets if you are racing competitively. Not everyone is courteous or aware enough to keep to the side (and not stray into different lanes) when they are exhausted.
So, when you do get tired and need to rest (or slow down) don't stay in the middle. Be aware that there are other racers.
Possessing strong upper body strength will help you with the Hercules Hoist obstacle. You simply have to pull the weight to the top and slowly lower it down.
The Hercules Hoist was among the obstacles I overcame at Spartan Race (Sprint) in 2015. Just as Joe Distefano suggests, pretend that you are climbing up the rope and pull it downwards. When I was doing this obstacle for the first time, I made full use of my body weight to counter the heaviness, staggered my footing and just kept pulling.
In Monkey Bars obstacle you swing yourself from the starting point to the end, without falling to the ground.
Obstacle course training advice – Practice Grip by Hanging & Train in Monkey Bars to Coordinate Swinging Momentum
As with any bar-related movement, you need to develop grip strength. You can do this by hanging on a pull-up bar daily for a few minutes, while in the active position. Do it before breakfast, lunch and dinner. Or any time you are able to.
If you are lazy to drive to a pull up bar facility everyday, get this doorway pull up bar for use at your house.
Once you've trained your grip, learn to use your body's swinging momentum to move yourself forward. Muscling through is going to be difficult due to the large gap between each bar. So, develop the technique to help you get through this obstacle.
Go to your public fitness facility (or some random kids playground) to practice using your swinging momentum.
The Spear Throw obstacle is one that is  unique to Spartan Race. Center your grip on the spear and have your thumb beneath to support it. Extend all the way back, aim for the target and throw with your hand propelling all the way forward.
I failed in the Spear Throw obstacle at Spartan Race Singapore 2015. The spear fell downwards barely one foot from the centre of the target. 30 burpees.
If you are short, use the slats at thee back of the wall to climb upwards. Then, hook your leg over if you need to. If you are taller and have reasonable upper body strength, jump and grab the top of the wall. Then, muscle yourself over.
I don't recall doing this at Spartan Race Singapore. However, I may have overcome this at Lion Dash 2014. The mechanics of overcoming this is similar to the seven foot wall. The only difference is not being able to use your leading foot to push against the wall and propel yourself upwards.
There are a number of ways to get over the seven foot (sometimes higher) wall obstacle. Here are two.
Technique one – run towards the wall and use your leading foot to propel your body upwards. Swing your arm upwards for upward momentum, then muscle yourself up and use your body weight to tip yourself over the wall. This technique is known as the wall pass in parkour.
Technique two – use three points of contact.
Grab hold of the top of the wall with both of your arms. While hopping up and moving yourself upwards, bring your leading leg up to hook it at the top of the wall. Then, use these three points of contact to bring yourself over. This technique is a reliable method to get over and conserves energy.
I've overcome the Seven Foot (or other height variation) Wall in nearly every obstacle run I joined. I've also experienced getting over the wall while carrying a rifle and wearing a standard vest (when in the army). Obviously with the slung on riffle as an obstruction, performing the first technique is difficult. But I've gotten over the obstacle with a combination technique.
Obstacle Course Training – Technique Adjustments for Injury
After my first injury recovered partially, I could not put pressure on my right shoulder. So, I adjusted the second technique for both Commando Challenge (while carrying a 15kg backpack) and Spartan Sprint in 2015.
I suggest jumping up, grabbing the top and pulling your body up with the jump's momentum. Immediately rest one of your forearms above the wall when you gain enough height. Then, bring the second forearm up. Your entire body weight should now be on your forearms.
Then, simply tip your upper body over the wall, while placing one foot at the top. At some point, your stomach will be over the top of the wall and you will be able to get over easily.
Make sure to never flare your forearm outwards. Flaring your forearm outwards makes it difficult for you to push yourself up efficiently. Instead, keep your forearms close to the side of your body when pushing yourself over the wall.
For the Rope Climb obstacle, jump up and grab the highest part of the rope that you can reach. Then, use one of two techniques:
Not only have I done the rope climb at the Spartan Race, but I've also done it in standard battle order (with a riffle) when in the army. Both techniques are fine and are a matter of preference.
Beware of rope burn.
Obstacle Course Training – Close Grip Pull Up plus Knee Raise
Grip the pull-up bar with your hands close together, as though you are gripping a rope. So, your hands should be facing each other but staggered on the bar.
Activate your shoulders and pull yourself up, while raising your knees concurrently to touch your bent elbows. Your head should go over the bar.
Repeat a number of times.
This exercise simulates the rope climb and trains the same muscles needed to successfully perform the S-hook or J-hook. I may record a video on how to do this and add it to the Way Of Ninja group if my bursitis subsides.
Also, consider getting a climbing rope and tying it to your pull-up bar or monkey bar to familiarize yourself with the motion. Please train safely.
Getting over the "A" Frame Cargo Net should be straightforward. You will definitely encounter this. If you have a fear of heights, shift your focus on your hands gripping the net to get up and down.
The Sandbag Carry is another hot favourite at obstacle course races. It isn't difficult to carry a sandbag. However, make sure you conserve your energy. If you can hug it close to you or put it on your shoulder, do it.
The Slip Wall was another obstacle at Spartan Race Singapore 2015. I managed to get up without slipping despite the slope being wet. My grip strength (on the rope) was firm throughout. It might have been quicker if I knew this technique of leaning backwards and walking up.
So, try this out when you encounter the Slip Wall.
I have yet to successfully overcome the Multi Rig obstacle. In Spartan Sprint 2015, I fell off halfway as I was reaching for the random rigs instead of using momentum. I had been holding on for close to half a minute in the middle, before deciding to generate swinging momentum. By then my grip was tired and slacking off. Thirty burpees penalty for this.
Obstacle Course Training for Grip and Coordinating Momentum
I can't emphasize enough that the Multi Rig requires immense grip stamina. You therefore need to conserve your upper body strength and use swinging momentum efficiently. That will come from practice. Learning to coordinate your swinging and gripping of rigs is crucial.
My obstacle course training suggestion for this is the same as monkey bars.
The Bucket Brigade is yet another straightforward obstacle. You fill up your bucket with rocks till it reaches a marked line. Then, carry the bucket over some distance.
This was hell for me. I was gripping the heavy bucket from the bottom and the edges were cutting into my fingers. I dropped my bucket while resting halfway and had to gather up the rocks from the ground.
The method of resting the bucket when you are in a high kneel position is just ingenious. Trust me. Putting down the bucket on the ground and then lifting it up all over again is hell.  I was stupid not to think of it back then.
This experience is why you ought to have an idea of how to efficiently overcome an obstacle. It saves you energy and unnecessary pain.
The Z Wall obstacle is another one of my weaknesses. I barely made it to the other side.
Make sure you stay close to wall. Don't lean backwards as this weakens your grip. It helps to wear fitting/climbing shoes as well.
What race type should you begin with?
Among all the obstacle races I've joined, Spartan Race was the most challenging. It also gave natural and seamless transitions in the obstacle experience.
For beginners to obstacle course racing, I'd recommend starting with the Spartan Sprint. The distance is only 3+ miles (4.8+ km).
Find a Spartan Sprint in your region with this list I compiled. Countries include USA, UK, Canada, Australia, Japan, Poland, Hong Kong and more.